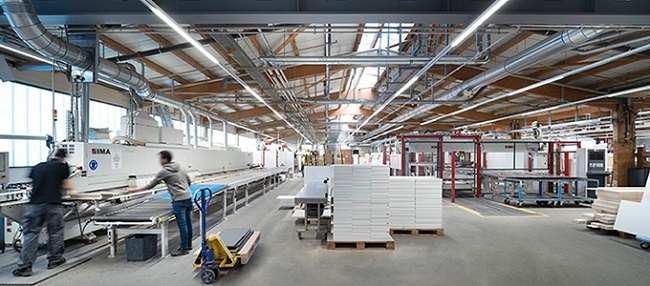 Industry is as diverse as light itself. Mammoth automotive production facilities, giant logistics warehouses. Each of these applications requires a specific type of light. Light that ensures safety. Aids precision. Improves quality. Active Light delivers on all of these points. Be it day or night work, our Active Light concept pursues the goals of human-centric lighting, aiming to replicate natural light and place the focus firmly on people. On their visual, emotional and biological needs. While taking into account individual requirements and challenges.




Delivering top quality with Zumtobel 

Efficient lighting for the STEP-G plant in Bitterfeld
The ST Extruded Products Group (STEP-G) manufactures aluminium extruded profiles at its production facilities. A complicated process that requires absolute precision. Particularly when it comes to quality control. So it is great news that COESA is now providing optimal lighting at the Bitterfeld plant — enabling any irregularities and defects to be identified immediately. The lighting solution also includes some of our industry classics: TECTON and CRAFT. And the whole project required no investment or major effort on STEP-G's part: They were able to lease the turn-key lighting solution rather than purchase it thanks to Zumtobel's finance services.

Find out more about the financing project with STEP-G





The perfect light for unique kitchens 

Zumtobel lights up Stöcklin Möbel AG
A workspace, a place of indulgence and creativity, a social hub — that's how the perfect kitchen of the future should be. Something that is close to Stöcklin Möbel AG's heart. But what else is important to the company? Providing the perfect lighting for its production facilities. Our industrial LED luminaire TRINOS, an LED continuous-row lighting system, does just that. It combines the flexibility and functionality of a trunking system with the durability of an IP65 luminaire, thereby meeting the wide range of requirements that arise in industry.

Discover productive light





Experience virtual light 

VR support for lighting design
Virtual reality is everywhere — and not just as a form of entertainment. It is also a useful tool. It can provide support in a wide range of areas, including lighting design. Zumtobel recognised this back in 2016, and offers lighting designers the opportunity to discover the benefits of VR online, for example in parking applications. The use of our moisture-proof luminaire AMPHIBIA highlights how VR can effectively support lighting design, as is also shown by one of our studies. 

Go on a virtual light tour


Lighting solution partners (LSP) for industry
Effective warehouse lighting thanks to Lighting Solution Partner Program
Through its partner and loyalty programmes, Zumtobel connects its customers to the best and most professional providers in lighting and electrical technology. Zumtobel does not just share the latest practical developments via the partner programme. Networks are generated, success stories are shared. Elektrotechnik Maue GmbH & Co. KG is a partner, among many other things. Working with them as a part of the Lighting Solution Partner Program, we were able to implement the Krone spare parts logistics centre project in Herzlake. 
CRAFT 
and 
TECTON
create the ideal lighting conditions. In all areas of the centre.
Learn how light helps logistics flow
AMPHIBIA moisture-proof luminaire 
One luminaire for 245 industrial applications
AMPHIBIA. A luminaire with stamina. That braves and withstands everything. Extremely robust. A luminaire that has set new standards in industrial lighting. Dust, moisture, chemicals and extreme temperatures — none of that is a problem for AMPHIBIA. Thanks to durable components.  Awarded the 
ECOLAB
 certificate. And the advanced design offers exactly what Zumtobel promises its industrial lighting solutions deliver: a safe, productive working environment.
Find out more about the versatile masterpiece
TRINOS industrial LED luminaire 


Flexibility, functionality and durability in one
TRINOS offers a high degree of protection and enables the use of continuous rows in industrial applications for the very first time. In textile, paper and wood processing, for example. Or in refrigerated warehouses and covered outdoor areas. Thanks to TRINOS trunking, which enables the flexible installation of an IP65 continuous row up to 50 metres long. The resistance of TRINOS to various cleaning agents has also been tested, successfully — the luminaire has been awarded the ECOLAB certificate.

Enjoy flexibility and durability


The classics in the industry portfolio 




What else?
As well as AMPHIBIA and TRINOS, Zumtobel also always impresses with its classics – TECTON and CRAFT. The first is an efficient LED continuous-row lighting system that meets a wide range of lighting requirements thanks to its excellent colour rendering. The second is an efficient high-bay LED luminaire that offers the perfect solution to all kinds of lighting challenges thanks to its various assembly options and illuminance levels. Both can rise to and solve any industrial challenge.  

Find out more about the industry classics


Zumtobel interviews Zumtobel 




An interview about the impact of light

How important is good lighting to those working in industrial production? This is just one of the questions that Carina Buchholz, Lighting Application Manager put to Mario Wintschig, Head of Health & Age. The answer: very important, clearly. Something that Zumtobel is not only fully aware of, but also cares a lot about. That's why we are always working to develop our Active Light concept even further.
Just how important is light really?  
Find out more here
Outstanding design

Three iF Design Awards 2019 for Zumtobel
The iF Design Award has been awarded since 1953. The competition took place as usual in 2019. Zumtobel came out on top, again. And it was a triple win, again. A classic hat trick. Three submissions received an award: the 
LINETIK
pendant luminaire, our office luminaire developed in collaboration with Simon Fisher and Matt Free from F Mark Ltd and Luke Smith-Wightman, 
TEELA
 – part of 
the editions
 specialist collection in cooperation with Delugan Meissl –  and the
Zumtobel Group annual report,
 designed by New York design studio Sagmeister & Walsh. After all, Zumtobel stands for design. 
Find out more about the award winners 
Zumtobel makes its mark in Holland


Making connections at the Stedelijk Museum in Amsterdam
Art and culture — our brand has been connected to the art and design world since the very beginning. As that's where our passion lies. A passion that is continually driven by events. Like at the Stedelijk Museum in Amsterdam. Around 100 guests met here, bringing together the worlds of politics, art and culture. They also had the opportunity to marvel at the newly renovated museum, which has been fitted with ARCOS. All while enjoying the relaxed atmosphere.
And how was it?
Find out more here